Vidrine Family Reunion 2022
The 2022 Vidrine Family Reunion will be held on Saturday, October 22, 2022 at the Ville Platte Civic Center in Ville Platte, LA
T-Shirt Info: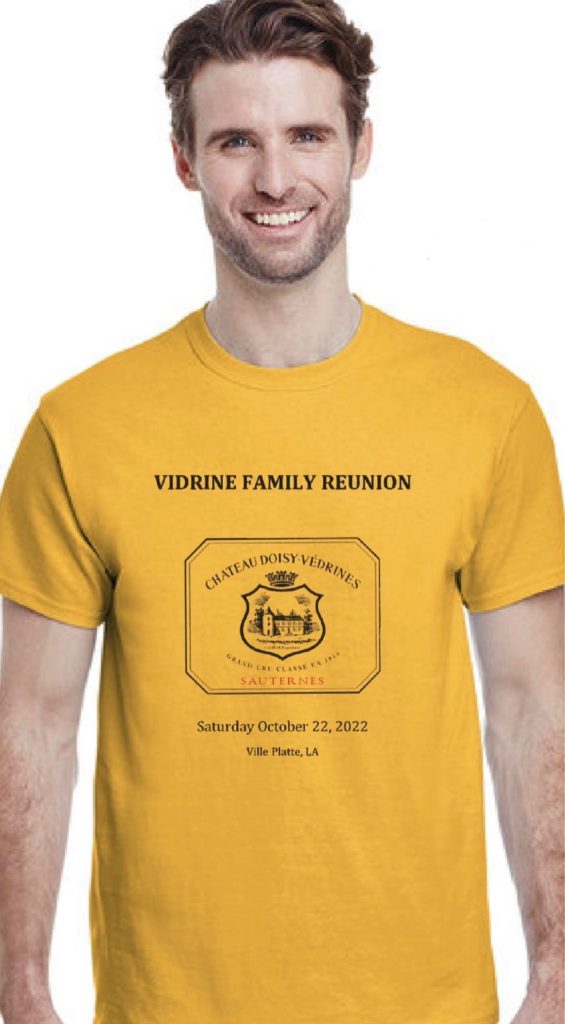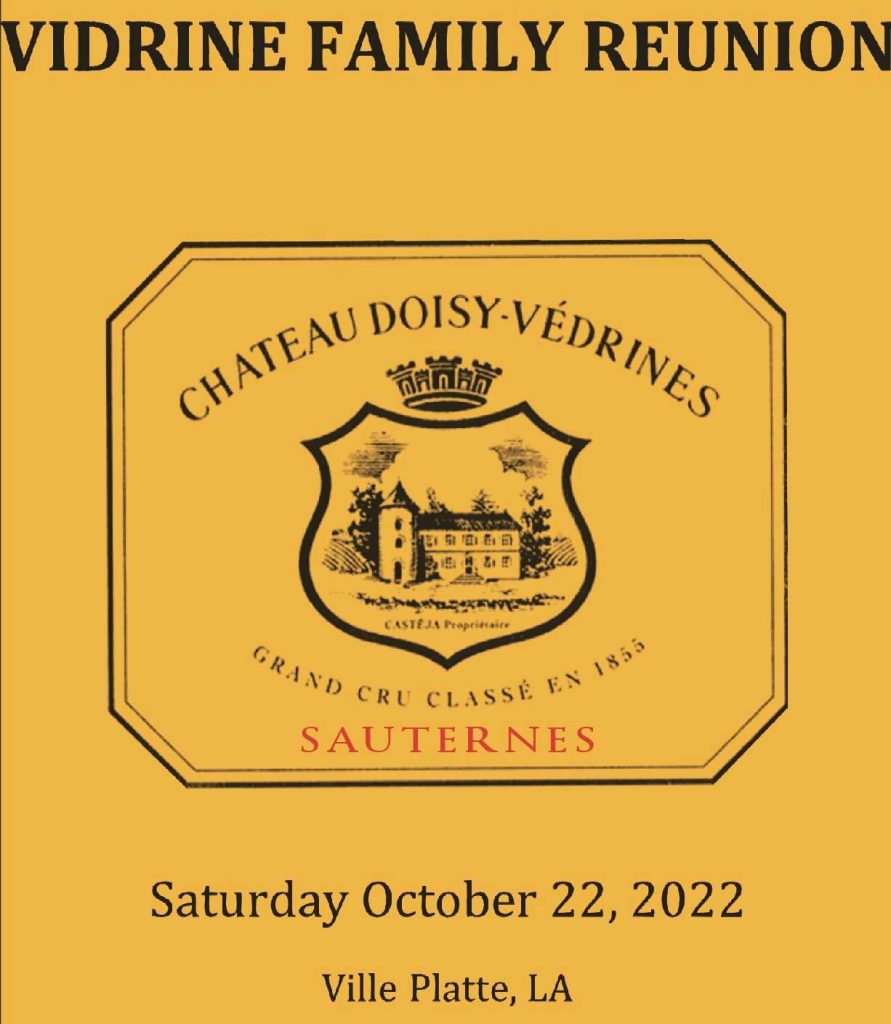 This year, our theme or focus is the Chateau Doisy-Védrines, which is named after the father of Jean Baptiste Lapaise de Védrines, so the T-shirt design is meant to reflect this:
1- The Chateau Doisy-Védrines label on the wine bottle for many years is the image.
2- The shirt will be gold, which is the closest we could find to the color of the Chateau and which reflects the color of the delicious Sauternes wine produced by the Chateau Doisy-Védrines for hundreds of years.
Cost: $15 per shirt
Sizes: Adult Small to 6x; children sizes
Payment: check/cash/paypal (jvidrine@hotmail.com)(Make check out to Fr. Jason Vidrine)
Deadline to order: Tuesday, October 4, 2022**
Leave comment or send message with size and number wanted.
Orders/payments can be mailed to:
Fr. Jason Vidrine
P.O. Drawer 10St. Martinville, LA 70582
——————————————————–
FAQ's
Frequently Asked Questions:
What's the Vidrine Family Reunion?
It started seven years ago from cousins in the Vidrine Family Group on Facebook wanting to have a gathering. It's for all who descend from Jean-Baptiste Lepaise de Vedrines and his wife Elizabeth de Moncharvaux who settled in the Opelousas Territory in the late 1700's! Join us at the Ville Platte Civic Center in Ville Platte, LA on Saturday, September 18, 2021 from 10am-3pm!
How much does it cost?
Admission: $5 for Adults, age 4-62; free for Seniors (62+) and children age 3 and younger. Donations accepted to help defray the costs…a small offering for a full day of family, history, sharing! Gumbo and Potato Salad will be served for lunch.
How do I register/where do I pay?
There is no need to register. You'll pay when you arrive.
Where do I park?
The parking areas are both behind and in front of the Civic Center.
What about drinks or ice chests?
Bring your own drinks and snacks! Water will be available. NO GLASS OR BOTTLES!!!!!!
What is not allowed at the Reunion?
Please no glass, bottles or pets!
How do I get to the Ville Platte Civic Center?
The address is 704 N Soileau St, 70586 Ville Platte, LA 70586. It's between LaSalle and Lincoln Streets in Ville Platte. You can visit the Evangeline Parish Tourism website to get info directions, lodging and RV campsites.
Do you help booking hotel rooms or get camping & RV information?
Cabins and camping spots at Chicot Park are available and should be reserved soon. Reservations can be made here: https://www.reserveamerica.com/explore/chicot-state-park/LA/240027/overview. You can also visit the Evangeline Parish Tourism Office for other accommodations. There are numerous local options from you to choose from.
Where is Registration, General Information, Security, First Aid and Lost & Found?
Just go to the entrance of the Civic Center. There you will find the 'brains' of our event.
How can I help?
VOLUNTEERS WANTED!!!! – Spread the word, encourage family members to attend. That will help everyone!
We will need to pick up all litter from the tables, floor and grounds – so be courteous and watch your children and help keep the trash where it belongs…in the dumpster.
Email: jvidrine@hotmail.com if you want to help, have questions, or have photos, news articles that you want to share (please identify who is in the photo)
———————————————————
Photos from Previous Reunions can be found here.