184th Anniversary of Death of Fr. Barrière!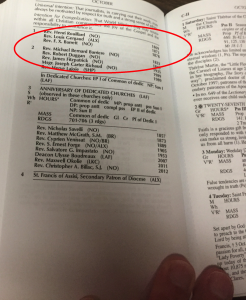 Today is the 184th anniversary of the death of Fr. Michel Benard Barrière who died on this day in 1832. He was a Priest from France who fled the French Revolution and spent his exile serving in south LA – at the Attakapas Post (St. Martinville), then the Opelousas Post, then at Lafayette where he founded St. John Church. While serving the Opelousas Post, Fr. Barrière ministered to the first and second generations of the Vidrine family. He:
Baptized Victoire Irene Lapaise Vidrine (1815–1879), daughter of Etienne Vidrine dit Lapaise and Victoire Soileau on 8 November 1815
Baptized Andre Vidrine (1815–1864), son of Jean Baptiste Pierre Vidrine and Marie-Josephe Brignac on 8 November 1815
Married Pierre Vidrine Jr. (1790–1837) [son of Jean Baptiste Pierre Vidrine and Marie-Josephe Brignac] and Adelaide Larose Fontenot on 14 May 1816
Buried Elisabeth de Moncharvaux (1744–1816) – wife of Jean Baptiste Lapaise de Vedrines and matriarch of all Vidrines in LA – on 7 September 1816
In the first Baptismal register of St. Landry Church, there's a note made in the margin next to the entry about Jean Pierre Baptiste Vidrine's second son, Lisandre Jean Baptiste Vidrine, who had been baptized by Fr. Pedro de Zamora in August of 1791. The Spanish Capuchin had recorded the name as he had most likely heard it – incorrectly – as Bidrine. When he went through the registers years later, Fr. Barrière corrected it by noting that it was actually de Vidrenne (Védrines), and that he had known the family well in Bordeaux in 1770.
Click here for an article I wrote about Fr. Barrière's life and connection to the Vidrine Family. May he rest in peace.