Msgr. Curtis Vidrine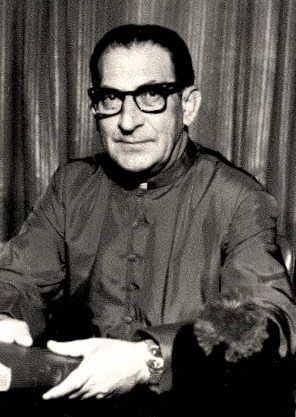 Today is the 16th anniversary of the death of Msgr. Curtis Stephen Vidrine (1920-2000). He was the first member of the Vidrine Family in LA to be ordained a Priest.
Msgr. Curtis Vidrine was a native of Chataignier. He was the son of Willis Vidrine and Loula Lafleur. Not long after his mother passed away in New Orleans in 1926, Curtis entered St. Mary's Boys' Asylum in New Orleans as a young boy. He was transferred to St. Mary's Home in Lafayette on June 1, 1929 when he was nine years old. Monsignor Vidrine was educated at St. Mary's Home and Sacred Heart in Ville Platte from 1926 to 1931 and Cathedral High School in Lafayette from 1931 to 1933. His Priestly training came at Saint Joseph Seminary in Covington from 1933 to 1939 and at Notre Dame Seminary in New Orleans from 1939 to 1945.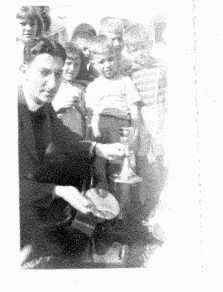 He was ordained to the Priesthood for the Diocese of Lafayette on March 17, 1945 at the
Cathedral of St. John the Evangelist in Lafayette. Shortly after his ordination to the Priesthood, Fr. Curtis returned to St. Mary's Home to visit the orphans and thank them for the gift of his chalice.
His first Priestly assignment was as Parochial Vicar at Immaculate Conception Church in Lake Charles, where he served from 1945 to 1952. In 1952, he was the founding Pastor of St. Hubert Church in Lake Charles and served there until 1960. He was then the founding Pastor of Sacred Heart Church in New Iberia from 1960 to 1971, Our Lady of the Sacred Heart Church in Church Point from 1971 to 1974 and Our Lady of Seven Dolors Church in Welsh from 1974 to 1976. He was named Pastor of Our Lady Star of the Sea Parish in Cameron in 1976 and remained there until his retirement in June of 1997.
Pope Paul VI named Fr. Curtis a Prelate of Honor with the title of Monsignor in 1970. In addition to his Priestly duties, Msgr. Vidrine served in a variety of administrative level positions in the Diocese of Lafayette: Dean of the Church Point Deanery from 1971 to 1974 and as Regional Vicar of the combined Church Point and Crowley Deaneries from 1973 to 1974. Among other assignments, Msgr. Vidrine was the Moderator of the Diocesan Council of Catholic Women from 1960 to 1973 and served as a Pro-Synodal Judge of the Diocese of Lafayette Marriage Tribunal from 1972 to 1975. Msgr. Vidrine was a 50-year member of the Third and Fourth Degree Knights of Columbus.
He's buried in the Sacred Heart of Jesus Cemetery in Creole, LA. May he rest in peace.