Remembering D-Day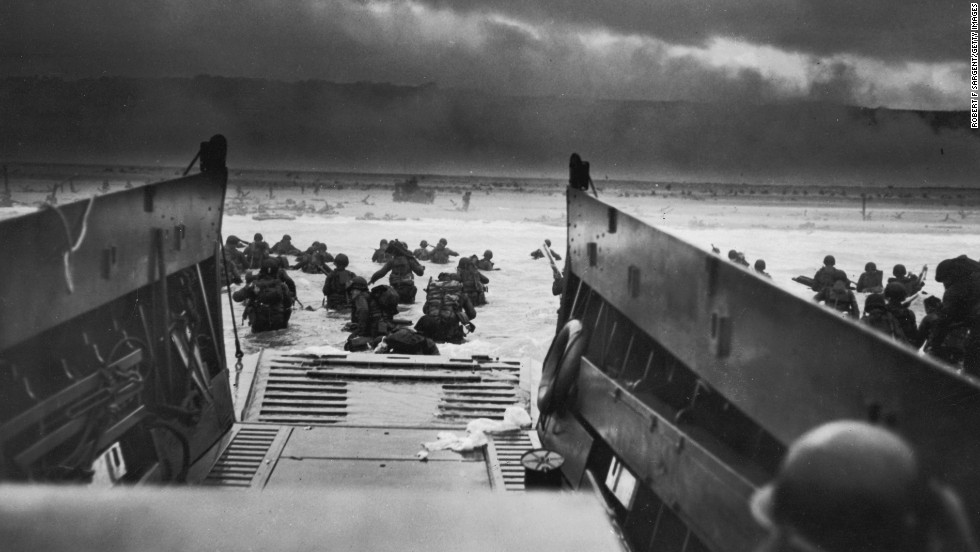 Today is the anniversary of the Normandy Landings known as D-Day when the Allied (American, British, and Canadian) forces stormed the beaches of Normandy during WWII. No soldiers from the Vidrine Family are known to be among the nearly 10,000 Allied causalities on June 6, 1944. However, there is one known paratrooper in the invasion of Normandy, Cleveland A Vidrine (1923-1988), son of Avit Pierre Vidrine and Lydia LaFleur who survived. A bullet penetrated his helmet through and through, just missing his head. It is said he was never the same after that. His family says that he wouldn't say much to anyone and that he never married and had no children.
While there are no known casualties from the Vidrine Family on D-Day, Allies failed to achieve all of their goals on the first day as several key cities remained in Nazi German hands. Several related battles ensued, and in the Battle of Martain, an Allied counter-offensive against a Nazi German counter-attack they named Operation Liége, the life of Francis Joseph Vidrine (son of Alfred Vidrine and Elizabeth Dupre) was claimed. He was born in 1921 in Washington, LA and died on August 7, 1944 in Brittany, France as a Sergeant in the U.S. Army, 117th Infantry Regiment, 30th Infantry. His name appears on the Division Tablets of the Missing at Brittany American Cemetery.
The 30th Infantry Division, activated on September 16, 1940, was nicknamed the "Old Hickory" division, in honor of President Andrew Jackson. After the U.S. officially entered World War II, the 30th Infantry Division arrived in England on February 22, 1944, and trained until June when they landed at Omaha Beach, Normandy, France on June 11, 1944, five days after the D-Day Landings had begun. The 30th crossed the Vire River on July 7 and spearheaded the St. Lo breakthrough beginning the 25th. The 30th Division relieved the 1st Infantry Division near Mortain on August 6. Francis Joseph Vidrine was killed the next day in the intense fighting with the Germans. Although American casualties in Operation Lüttich were significantly lighter than in previous operations, some sectors of the front, especially the positions held by the 30th Division around Mortain, suffered severe casualties. By the end of August 7 alone, nearly 1,000 men of the 30th Division had been killed – and among them – Francis Joseph Vidrine.
May the souls of those who perished fighting to conquer the evil of the Nazis rest in peace. And may we always remember their heroic struggle.
For more details about the Army 117th Infantry Regiment of the 30th Infantry Division in the Battle of Martain, see these links:
http://www.jimwerbaneth.com/online_features/mortain.html
http://www.30thinfantry.org/unit_history_117.shtml