Announcing 2020 Reunion T-shirt Design!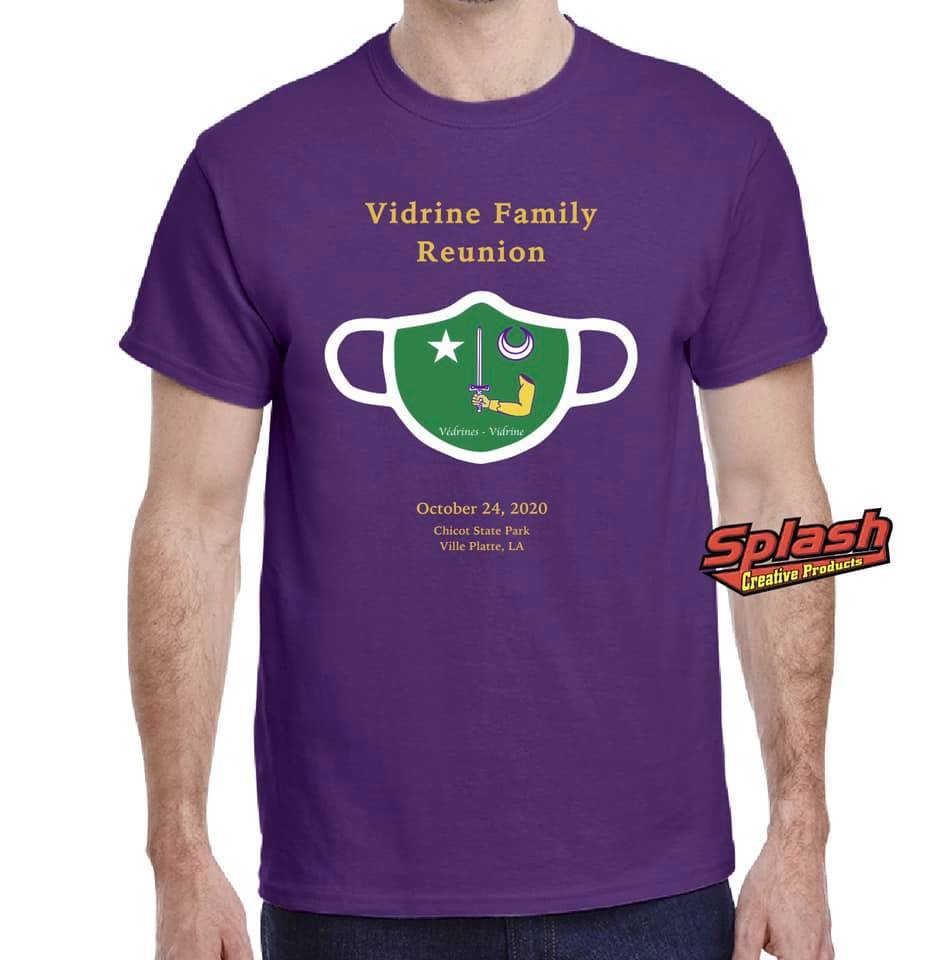 The design centers around three themes:
1 – The mask represents this crazy year of 2020 deeply affected by the COVID-19 Pandemic, which has thrown most things off, including our original date and place of the Reunion.
2 – The mask also serves as the crest for the coat of arms of the Védrines Family in the Agen region of France. While we do not know with certainty the Coat of Arms of the Lapeze branch of the Védrines Family who came to Louisiana, this year is the 250th Anniversary of the birth of Etienne Vidrine, dit Lapaise, the second son of Jean Baptiste Lapaise de Vedrines and Elisabeth de Moncharvaux and first son to be born on south Louisiana soil (at Pointe Coupee). Known as Lapaise, Etienne's name name harkens back to our family's roots in southwest France, and theCoat of Arms continues to be used by the only remaining Védrines family in the Agen region, near Monflaquin, only 16 miles from Sainte Livrade and the community of Lapeze. The green background is original to the Coat of Arms but it also evokes Chicot Park where the 2020 Reunion will be held.
3- The purple shirt and gold letters pays homage to the 2020 National Champion LSU Tigers.
Cost: $15 per shirt
Sizes: Adult Small to 6x; children sizes
Payment: check/cash/paypal (jvidrine@hotmail.com)
(Make check out to Fr. Jason Vidrine)
Deadline to order: Wednesday, October 7, 2020**
Send an e-mail with size and number wanted to jvidrine@hotmail.com.
Orders/payments can be mailed to:
Fr. Jason Vidrine
901 E Elm St.
Crowley, LA 70526