About
Welcome to our Vidrine Family website! We hope this site will be helpful for all those researching the history or roots of the Vidrine Family! The information on this website is certainly not complete mostly because of the very fluid nature of genealogical research. Please check back often for updates. You can also leave us feedback or submit a genealogical query on the Contact Page.
Common lore around Ville Platte, LA holds that for a long time, the family papers, coat-of-arms, and seals of the Vidrine Family were carefully preserved…but years ago, in an argument over birth, the entire collection was thrown into an open fireplace. Whether or not that is a fact, it is true that the coat-of-arms or seals of the Vidrine Family are no longer known with certainty.
However, thanks to the groundbreaking work of painstaking research by Jacquelin Olivier Vidrine and others after her, an amazing amount of information about the Vidrine Family is now known. In fact, it is not common to find a family history and tradition that is so extensively detailed and chronicled as the Vidrine Family has come to be.
On this site you will find information about the Védrines Family in France, about Jean Baptiste Lapaise de Védrines and his life, as well as information about the Vidrine Family in LA today in addition to interesting bits of info or researched facts published on the Blog. You can also search your family history in the Genealogy Tree. Enjoy the adventure!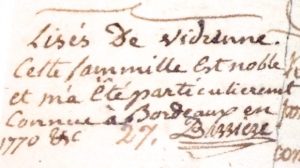 Marginal note by Fr. Michel Barriere around 1816 on the baptism of Lisandre Jean Baptiste Vidrine in the first Baptismal Register of St. Landry Church in Opelousas, LA (V.1, p.113).