Feast of St. Stephen the Martyr
Today is the feast of St. Stephen, the Deacon and first Martyr of the Church. He was martyred in Jerusalem around the year 34ad.
Jean-Baptiste Lapaise de Védrines and Elisabeth's second son was named after him – Etienne Vidrine dit Lapaise (1770–1849). Etienne was born on June 15, 1770 at the Pointe Coupee Post, LA. He moved with his parents to the Opelousas Post three years later, and was married to Victoire Soileau at St. Landry Church in Opelousas on September 22, 1796.

(This signature is from his marriage record.)
Once Jean-Baptiste Lapaise de Védrines died in 1788 at the Opelousas Post (Washington, LA), his two sons remained living there for about ten years. The oldest son, Jean Baptiste Pierre Vidrine, sold his land at the Opelousas Post in October of 1803 and filed a land claim in February of 1806 to the west of the Opelousas Post in the Prairie that would later become Ville Platte, known at the time as the Quartier dit Baton Rouge. His brother Etienne Vidrine soon followed, filing a land claim next to his brother in June of 1807, establishing the new base of the Vidrine Family and their children in that area.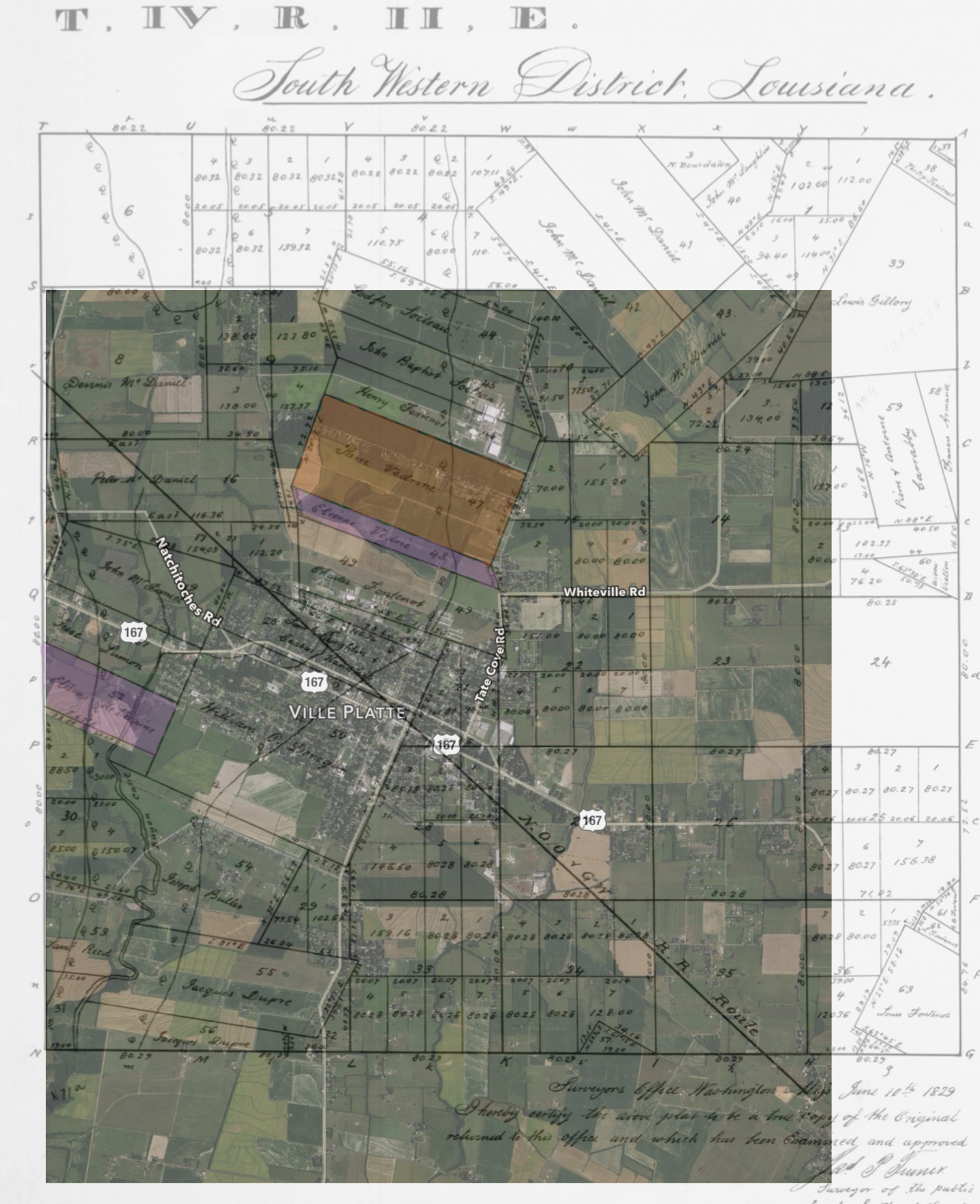 (This is of an 1829 survey map of the Ville Platte area superimposed over a contemporary map, showing where the original land grants for Pierre and Etienne Vidrine were located.)
In June of 1812, Etienne was serving in the War of 1812 with the 16 Regiment (Thompson's) Louisiana Militia.
He died February 20, 1849 in the Quartier dit de Baton Rouge, LA (Ville Platte, LA).
These are the children of Etienne Vidrine dit Lapaise & Victoire Soileau. A great many of the Vidrines today descend from them:
Etienne Vidrine, Jr.
Zenon Vidrine, Sr.
Eloise Vidrine
Antoine Vidrine
Louis Vidrine, Sr.
Joseph Vidrine
Jean Baptiste Vidrine
Charles Vidrine
Edouard Vidrine
Augustin Vidrine, Sr.
Victoire Irene Vidrine
Evariste Vidrine
Leon Levi Vidrine, Sr.