Birthday of Elisabeth de Moncharvaux!
Elisabeth Tisserand de Montcharvaux (1744–1816)
Birth April 22, 1744
Tomorrow will be the 273rd anniversary of the birth of Elisabeth de Moncharvaux, the young bride of Jean Baptiste Lapaise de Védrines and matriarch of the Vidrine family in LA.
Elisabeth was born on April 22, 1744 at the Arkansas Fort along the Mississippi River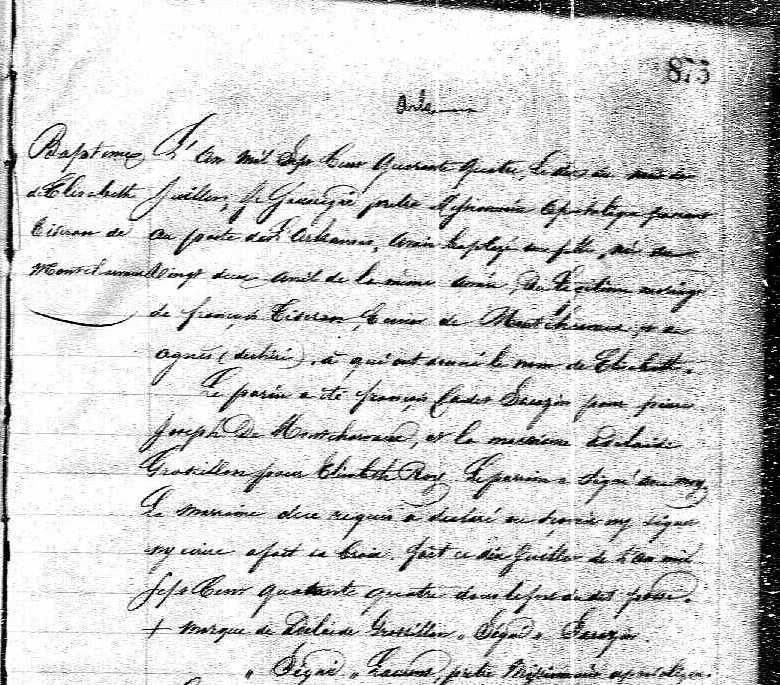 near the mouth of the Arkansas River during the time her father, Jean Baptiste François Tisserand De Moncharvaux was serving as Commandant of the Fort (from 1739-1748) and baptized there on July 10.
In America, she is often called an "Indian Princess" when, in actual fact, she wasn't quite so. It is true that she was part Native American. Because she carried her father's French name, her maternal heritage is not immediately recognizable. However, her maternal great grandmother was Marie Rouensa "Aramepinchone" (1677-1725), a full-blooded Native American of the Illinois Kaskaskia tribe. The Princess part probably comes from the fact that she was so young when she married Jean Baptiste Lapaise de Védrines on October 10, 1758 in St. Anne chapel at Fort de Chartres, IL. She was a mere 14 year old while he was 46. The marriage was most likely encouraged by her father, who was the Captain of the detached company that Jean Baptiste Lapaise de Védrines was serving with. While we do not know it with certainty, perhaps he encouraged the marriage because he knew the virtue and goodness of his fellow Officer, Jean Baptiste Lapaise de Védrines, and wanted his daughter to have a good husband such as him.
Two years after they were married, their first child, Marie Jeanne de Védrines was born at the Village of Chartres next to the Fort, followed by their first son the next year, Jean Baptiste Pierre de Védrines, followed by their second daughter, Agnes Vidrine the year after. In 1763, when the French lost the war to the British, Jean Baptiste and Elisabeth moved with their children south to lower LA. They settled first at the Pointe Coupee Post where their next three children, Perrine, Marie Anne, and Etienne were born before finally settling at the Opelousas Post, where their last child, Eugenie, was born.
Her husband, Jean Baptiste Pierre de Védrines, died on January 15, 1788. He was 75, and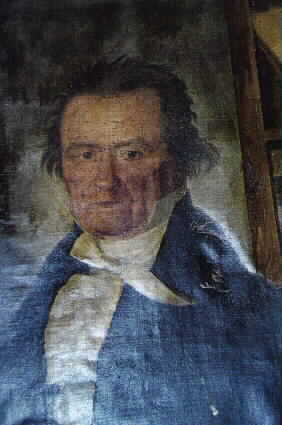 she was 43. She was listed in the 1796 Census of the Opelousas Post living as a widow on the property of her husband. She was likewise mentioned in a letter written by her brother in law, Dr. Francois Robin (married to her sister, Marie Agnes de Moncharvaux) to his family in France dated May 6, 1815 and postmarked at Opelousas, LA.
Elisabeth died the next year, on September 6, 1816 at the home of her son, Pierre in Ville Platte. This is her funeral record. It's found in the death register of St. Landry Church in Opelousas, recorded by French Missionary Fr. Michel Bernard Barriere, pastor (from 1813 to 1817). He notes that Elisabeth died after suffering three long years in the "Quartier du Baton Rouge" (which today is Ville Platte).

English translation:
In the year 1816, on the 7th of September, I the undersigned Michel Bernard Barriere, Priest assigned to this Parish of St. Landry of the Opelousas Post, have buried in the cemetery of this Parish, the body of Mrs. Elizabeth de Moncharvaux, adult, around 70 years old, she was the widow of Mr. Pierre de Vedrines, former Officer of his majesty, the King of France, in this colony (of Louisiana). She received all of the Sacraments and lived for three long years and died in the Quartier du Baton Rouge in this Parish. Witnessed by me,
Michel Bernard Barriere, Pastor
Like her husband's tomb in the cemetery of the Opelousas Post (Washington, LA), her tomb in the cemetery of St. Landry Church (Opelousas, LA) unfortunately can no longer be found.