275th Anniversary: Governor Vaudreuil
The Vidrine Family in LA celebrates the 275th anniversary of Jean Baptiste Lapaise de Védrines' departure from France and arrival of LA in 2018. It's a time to remember and reflect on the details (that we're able to know) of his departure from France and arrival in LA as well as the 275 years of history of his descendants and the family he established in LA…as well as the people who shared that journey with him.
On the morning of January 1, 1743, Jean Baptiste Lapaise de Védrines boarded the royal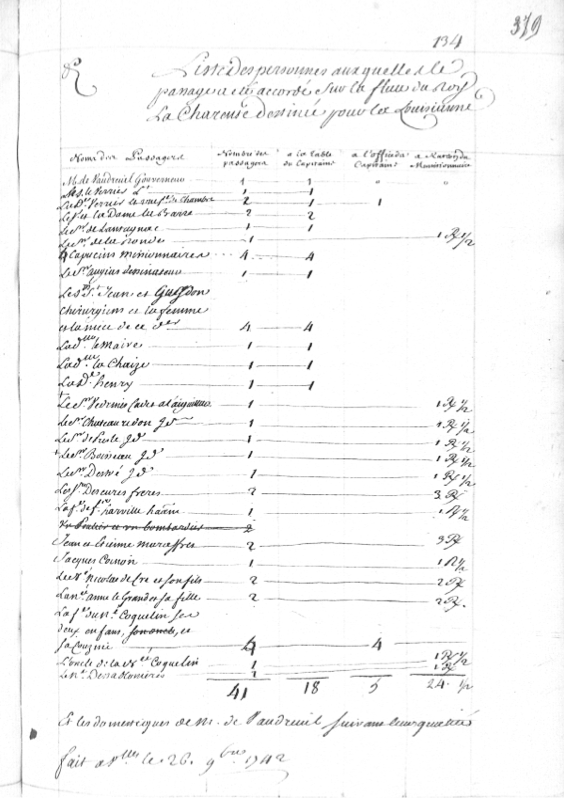 ship La Charente with the newly-appointed Governor of Louisiana, Pierre de Rigaud de Vaudreuil. Sieur Védrines is on the list of passengers of the Charente, composed on November 26, 1742 (Archives Nationales Coloniales, B 75 379).
After a delay of several months, the ship departed from Rochefort, France on January 1, 1743.
The voyage from France to Louisiana was a four-month journey. There was at least one stop for a time at Saint-Domingue, where accounts relate that Governor Vaudreuil was given a very lavish reception (Vidrine & Vidrine, Governor Vaudreuil's Trip to Louisiana, p. 3).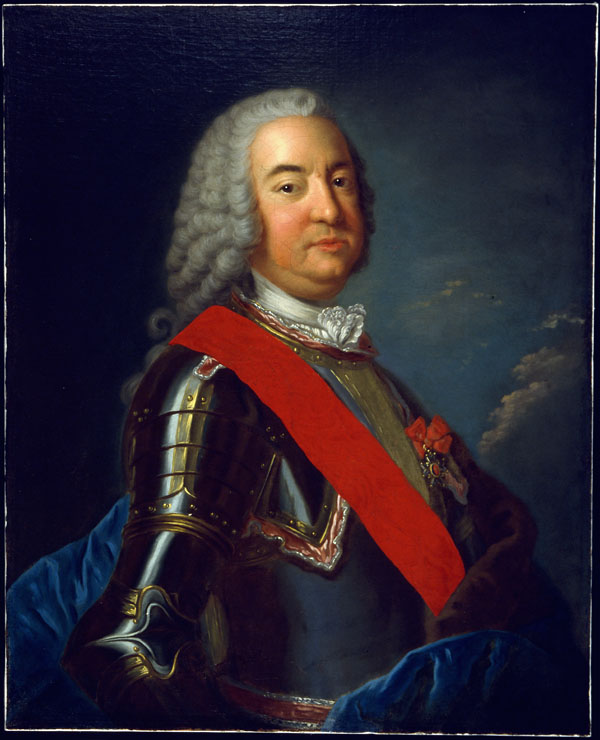 As it neared the end of the journey, on April 30, 1743, the King's ship was battered by a storm, which left Governor Vaudreuil seasick for the next eight days (Vidrine & Vidrine, Governor Vaudreuil's Trip to Louisiana, p. 23). Finally, the Charente docked at La Balize at the mouth of the Mississippi, near New Orleans on the morning of Wednesday, May 8, 1743.
To know a little more about the important man on the ship with Jean Baptiste Lapaise de Védrines' during those four months at sea in 1742 – Governor Vaudreuil – this is a good biography of him by historian Carl Braseaux:
"Serving as French governor of Louisiana from 1743 until 1753, Pierre de Vaudreuil was popular with the upper-class colonists and French officials for his elegant manners. He frequently sponsored balls, dinners, and other social events, helping to ease factions among the colony's residents. Vaudreuil's promotion of indigo production led to increased economic prosperity, as did the emergence of the sugar cane industry on his watch.

Pierre de Rigaud de Cavagnial, marquis de Vaudreuil was born in Quebec, Canada, on November 22, 1698, to Philippe de Rigaud, Marquis de Vaudreuil, governor-general of New France (now known as Canada), and Louise-Elisabeth de Joybert de Soulanges et de Marson.  At age ten, he joined the French military. Advancing quickly, he was promoted to captain around 1715.  After participating in several military engagements in Canada, Vaudreuil was awarded the Cross of St. Louis in 1730.  He obtained a discharge and returned to France, however, following his mother's death in 1740.

While in France, Vaudreuil was named to succeed Jean-Baptiste Le Moyne de Bienville as governor of Louisiana. While preparing for voyage, he met his future wife, Jeanne-Charlotte de Fleury des Chambault, a widow fifteen years his senior, whose expensive tastes later proved unpopular with the residents of Louisiana.  When the couple arrived in New Orleans on May 10, 1743, Vaudreuil found the colony plagued by security problems, many of which were related to the onset of the War of Austrian Succession in 1740.  Louisiana's garrison was inadequate for colonial defense and the British had succeeded in gaining the allegiances of several Native American chiefs, on whom the colonists had depended for protection. Vaudreuil nevertheless managed to solidify France's Native American alliances in Louisiana.  He developed a particularly strong and useful relationship with the renegade Choctaw chief, Soulier Rouge, and subsequently persuaded the Choctaw to destroy an English trading expedition.

Vaudreuil purchased a large plantation on the shore of Lake Ponchatrain in 1743. With a vested interest in improving the colony's economy, he encouraged the production of indigo.  He also ignored smuggling with Louisiana's Spanish neighbors in order to provide colonists with a greater variety of supplies. These and other policies helped bringing a modicum of prosperity to Louisiana in the mid-1740s.

Vaudreuil was recalled to France on June 8, 1752, although he remained in Louisiana briefly to familiarize his successor, Louis Billouart de Kerlérec with the colony and its administration. After a short stay in Paris, the French Crown appointed Vaudreuil governor-general of New France in 1755. He was less successful in this position due, at least in part, to poor relations with Louis-Joseph, marquis de Montcalm de Saint-Véran, commanding general of French troops in Canada.   He was forced to surrender New France to British forces under Amherst at Montreal on September 8, 1760.

One of several scapegoats for France's losses in the New World, Vaudreuil was imprisoned in the Bastille on March 30, 1762 but released on May 18 of the same year. Exonerated in a military tribunal held in December 1763, he was awarded a pension and military decoration. He died in Paris on August 4, 1778."

Carl Brasseaux "Pierre Rigaud Cavagnial de Vaudreuil" knowlouisiana.org Encyclopedia of Louisiana. Ed. David Johnson. Louisiana Endowment for the Humanities, 4 Aug 2011. Web. 13 Jan 2018.
Jean Baptiste Lapaise de Védrines arrived in New Orleans with newly-appointed Governor Pierre de Rigaud, Marquis de Vaudreuil in early May of 1743, 25 years after the city was founded. He was a lieutenant in the garrison of French Marines stationed in New Orleans at the service of Governor Vaudreuil for 8 years until he was sent to Ft. Chartres in IL in the Spring of 1751, one year before Governor Vaudreuil was recalled to France.