275th Anniversary: Alcin Vidrine by Mardell Sibley
275th Anniversary – The Life of Alcin Vidrine
By Mardell Sibley
The following is a sketch of the life of my second great grandfather, Alcin Vidrine.
Alcin was born in Old Grand Prairie on October 21, 1845, the tenth child born to Antoine VIdrine and Josephine Ortego (Antoine's second wife).  
In the 1850 US Census taken on June 1, 1850, Alcin appears as a five year old boy in the home of his parents, Antoine (48) and Josephine (39) and his siblings: Francois (17), Leontine (11), Emile (10) Leon (7), Archille (6), Alexandre (1) and his first cousin, Theodule Vidrine (8) (son of uncle, Augustine Edouard Vidrine, Sr.). 
Ten years later, in the 1860 US Census taken on June 1, 1860 Alcin was now 15 years old and had attended school that year along with his two brothers, Archille (13) and Alexandre (11).
One year later – in 1861, at the age of 16, he enlisted with the Big Cane Rifle Company K, 16th Louisiana Regiment commanded by Captain Gober under Col. Pond. According to his obituary, they were sent to New Orleans by boat to report to Albert Sidney Johnson, commander of the Confederates at Corinth, Mississippi, where they traveled to Shiloh, 18 miles distance, to participate in one of the bloodiest battles of American History.
He took part in Bragg's March through Kentucky, but became too ill to continue and made his way to a hospital at Glasgow, Kentucky, being captured shortly afterwards when the federals seized the town. The following year he was exchanged and again took up arms against the federal government, reporting to the Confederates the day after the historic battle at Murfreesboro.
At Chickamauga, where the Confederates were slain by the tens of thousands, he was again captured as a federal prisoner and sent to Camp Douglas, Chicago, where he remained until nearly two years AFTER peace had been declared.
Destitute and without a word from home since the beginning of the war, after being discharged from federal prison, he started from Chicago to Louisiana, walking most of the way, refusing to beg for food from any Yankee. Arriving here after many months of weary travel, his clothes tattered, almost starved, he was ready to start life anew among his people at Grand Prairie. He had been given up for dead, and memorial services had already been conducted for him, so at first his relatives failed to recognize him!
According to the story the family has passed down, his family was gathered together celebrating a wedding of one of his sisters. As he approached his home, walking down the lane he was whistling his favorite tune. As the family spotted him, they  all stopped and stared, and someone said: "It is the ghost of Alcin Vidrine!"
There are other family members who have done much research into his participation in the Civil War, especially two of his great great grandsons, Patrick Gillespie and Christopher Thomas Vidrine. 
Alcin settled in Old Grand Prairie (the area was also known as Cataro) and married Estelle Andrepont, the daughter of Philip Andrepont and Emeline Josephe Pitre on January 24, 1867 at St. Landry Church in Opelousas. They raised a large family of 12 children: Jean-Francois "Frank" Vidrine (married Olivia Andrepont), Dr. Frederick Vidrine (married Olivia Bertrand), Eva Vidrine (married Yves Andrepont), Eraste Vidrine (married Daisy Dell Demmings), Estelle Vidrine (married Yves Andrepont after her sister died), George Alva Vidrine (married Antonia Audler), Robert Vidrine (married Ida Prejean), Ada Vidrine (married Felix Hargroder), Alfred Vidrine (married Aurelia Hargroder),  Jacques Vidrine (married Rhea Fontenot), and Edna Vidrine (married Marshall Doucet and Felix Hargroder). He had over 100 grandchildren and great grandchildren at the time of his death in 1932.
Alcin owned a mercantile store, raised cattle and farmed. He also owned a saw mill and tracts of timber, cotton gin, corn grist and a large pear orchard.  He owned a 450 acre plantation, and between the years 1871 to 1916, also purchased numerous tracts of land from Bayou Cocodrie south to Plaisance and west to Andrepont. He even served as Postmaster for a year at his store.
He was very active in improving the quality of life in the area. In researching newspaper articles, I found that he was a founding member of the Farmer's Union and was very active with Stagg, Fontenot and EE Ortego (all cousins of course) in creating a public school system. The police jury minutes show that he worked closely to build and improve roads and bridges in Old Grand Prairie. He worked to increase the pensions of Civil War Veterans and served as head of many committees for projects for the Police Jury and on the jury for many court cases. One of the most interesting cases was a suit against the railroad. However, what intrigued me the most was his donation of 5 acres of land and wood to build St. Peter Church in Grand Prairie, which continues today. 
He, along with Paul Stagg, hired bilingual teachers for a private school they started. I have a copy of an advertisement in the paper, dated 1884, in which he and Paul Stagg were looking to hire a teacher who could teach in French and English. All of his children were educated, wrote in French and English, as well as played musical instruments. The boys attended St. Charles College in Grand Coteau, LSU and Tulane, and were all members of the Knights of Columbus and 'Sons of the Confederacy' as well as other civic groups. Most of his sons taught for a while at the Evangeline Academy at the onset of the institution. 
Included among those newspaper articles, I found that Alcin apparently appreciated a good time. There were many balls, dances, gatherings and barbeques held in the area; and apparently whiskey was not far behind. That led to scuffles and fights and, yes, several arrests. 
In the 1900 US Census taken on June, 1, 1900, Alcin appears (55), along with his wife, Estelle (51), and their children: Dr. Frederick (28), Ada (18), Alfred (12), Jacques (8), Edna (5), and Robert Oneil (16), a farm worker who was boarding with them.
In his later years he and his wife took trips to Grand Isle where his son Eraste Vidrine had a camp. Eraste was a successful attorney in New Orleans and owned a strip of land from the beach to the Bay. If you go Grand Isle today, 2 blocks down from the Sureway (the old Myrt Landry's) Grocery Store in the center of the Island, you will see Vidrine Lane, which was Uncle Eraste's property. Remnants of his camp is still among the trees. The land was bought by distant relatives and partially enrolled in a wetland mitigation program. Personally, I like to think that is where Lafitte buried his treasure!
Alcin's wife, Estelle died January 15, 1918 at the age of 68 and was buried in St. Landry Cemetery in Opelousas. Several months later, surprising everyone, 74 year old Alcin married a 52 year old maiden, Miss Celima Thibodeaux! Her brother Charles Thibodeaux became Sheriff of St. Landry Parish a short time later. The newspaper articles describing the politics are well worth reading!
There are so many interesting facets of our family's lives that I have discovered rooting from the newspapers of past and my great grandmother's scrapbook and picture albums. I wish that I could talk with her today and pester her with questions. As with all families, not all is happy or good. There were fights, disagreements and misunderstandings. Yes, these accounts are recorded for posterity in the newspaper. I will share some of those stories at a later date. 
Below are some photos from the photo album of my Great Grandmother Aurelia Hargroder Vidrine as well as a couple pictures that I took with permission from Mr. John  Earl Fontenot Jr.
The first photo is the Confederate Headstone marking Alcin's tomb. He is buried in the St. Landry Catholic Church Cemetery in Opelousas. His tomb is in Section 4 of the cemetery facing Union Street, on the back row of the the third grouping of graves.
Alcin Vidrine
Co. K
16 La. Infantry C.S.A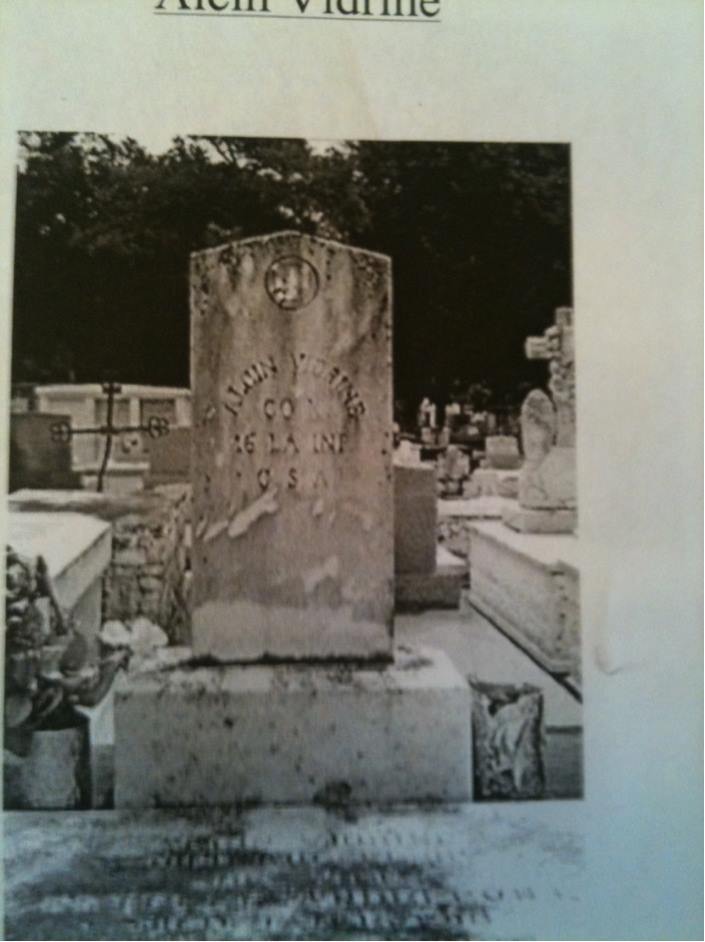 The second picture is the tomb of Alcin Vidrine (died Aug.1, 1932). He is buried with his wife Estelle Andrepont (died Jan. 15, 1918) and son George Vidrine (died Jan.15, 1924)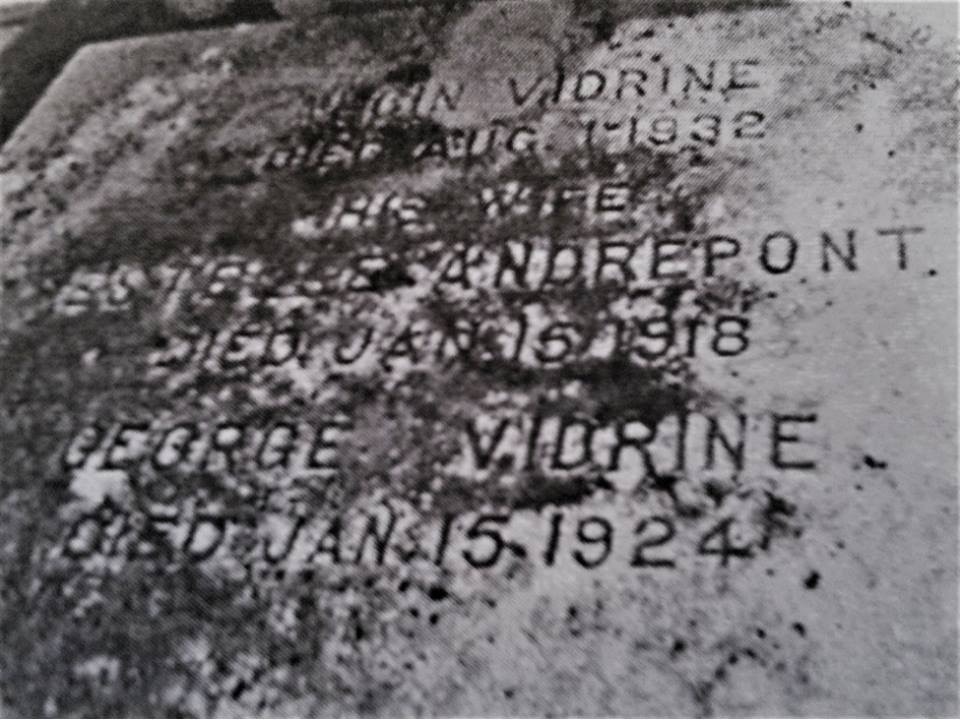 The third picture is of Alcin Vdrine and his second wife Celima Thibodeau. There were married in October 1919, when Alcin was 74 years old and Celima had just turned 52 (her first marriage).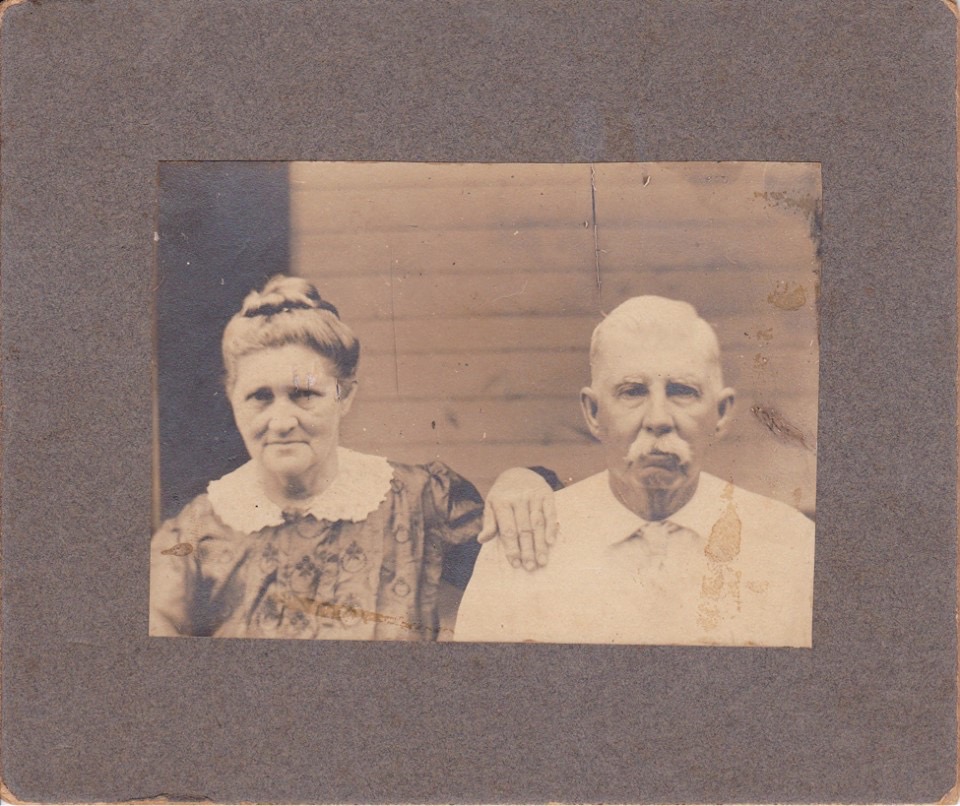 This picture, I have shared before, but bear with me! The Knights of Columbus at St. Landry Catholic Church. The original picture is owned by Ashlee Wilson Michot's mother. I believe that Ashlee's great grandfather is in the photo, first row to the far left. My great grandfather, Alfred Vidrine is second from left and I believe his brother Jacques is next to him with the fob watch.
The back row far left is Alcin, another son next to him and the gentleman to the far right on the back row is J. Frank Vidrine, Alcin's eldest son. The picture was taken by Jasper G. Ewing and is a small segment of a 3 foot panoramic picture of a large number of people.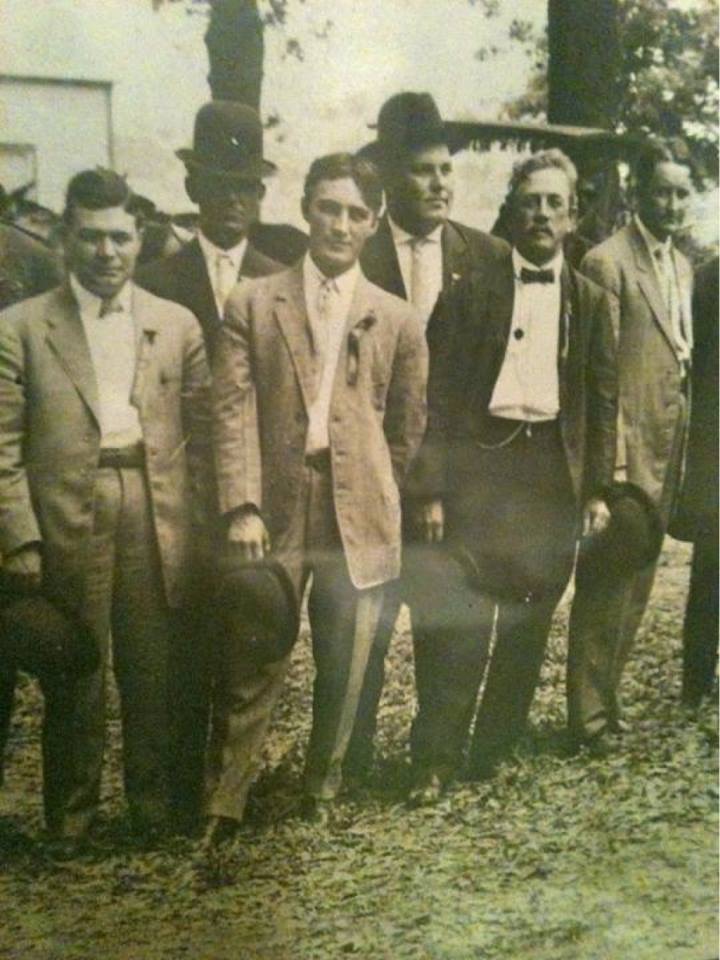 These last few pictures were taken five years ago, when my Mama, Jo Anne Vidrine Sibley, and I visited with Mr. John Earl Fontenot Jr. at his home in Faubourg. Mr. Earl took us to see the "Alcin Vidrine Live Oak" and the remnants of a cistern in which Alcin wrote his name and the date July 28, 1887 in the cement on the collar of the cistern. Now, to research the significance of the date!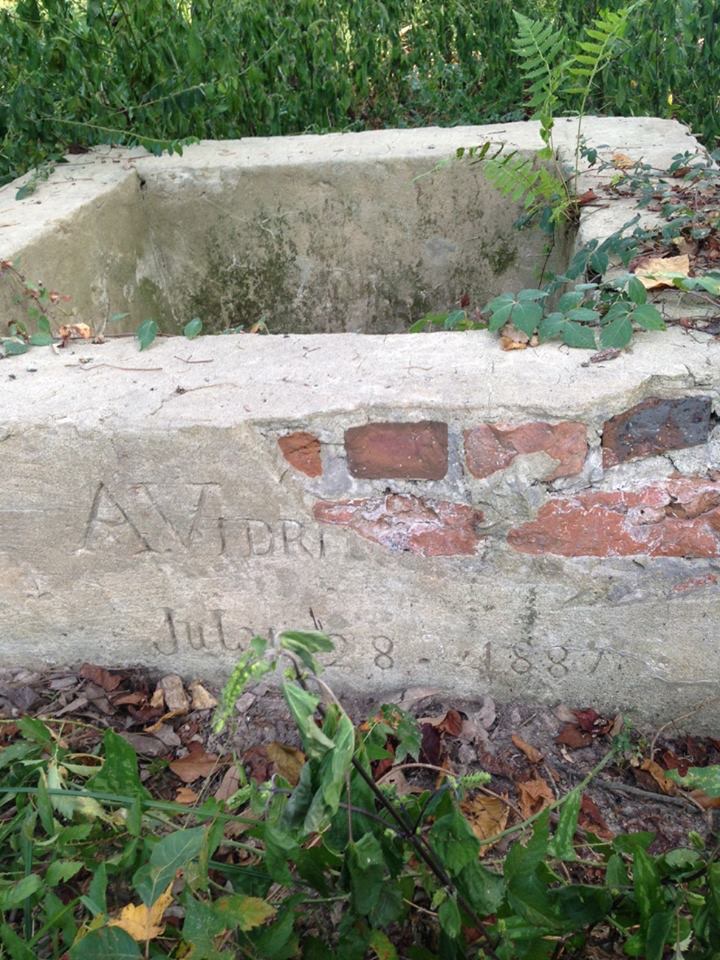 The Alcin Vidrine Oak was registered with the Live Oak Society, registration number 2612, by Mr. Earl Fontenot Jr. Several years ago, on March 14, 2015 an article by William Johnson was published in the Opelousas Daily World Live Oak Society Chairwoman Coleen Perilloux Landry was interviewed. This is a except of the interview.
Landry said "The only way to truly know the age of a live oak is to be there when the acorn is planted."
"Some oaks grow faster than others. It is all about the quality of the soil and the availability of water,"stated Landry.
To be registered, a live oak must have a girth (waistline) of 8 feet or greater. Trees with girths of more than 16 feet are classified as centenarians, meaning they are probably more than 100 years old.
Of more than 100 registered oaks in St. Landry Parish, a dozen fall into the centenarian class.
Landry said the parish is home to the most beautiful live oaks in the state.