275th Anniversary: Saint-Domingue
The Vidrine Family in LA celebrates the 275th anniversary of Jean Baptiste Lapaise de Védrines' departure from France and arrival of LA in 2018. It's a great time to remember and reflect on the details (that we're able to know) of his departure from France and arrival in LA…as well as the places associated with that journey.
One of those places was Saint-Domingue. Saint-Domingue was a Colony of France in the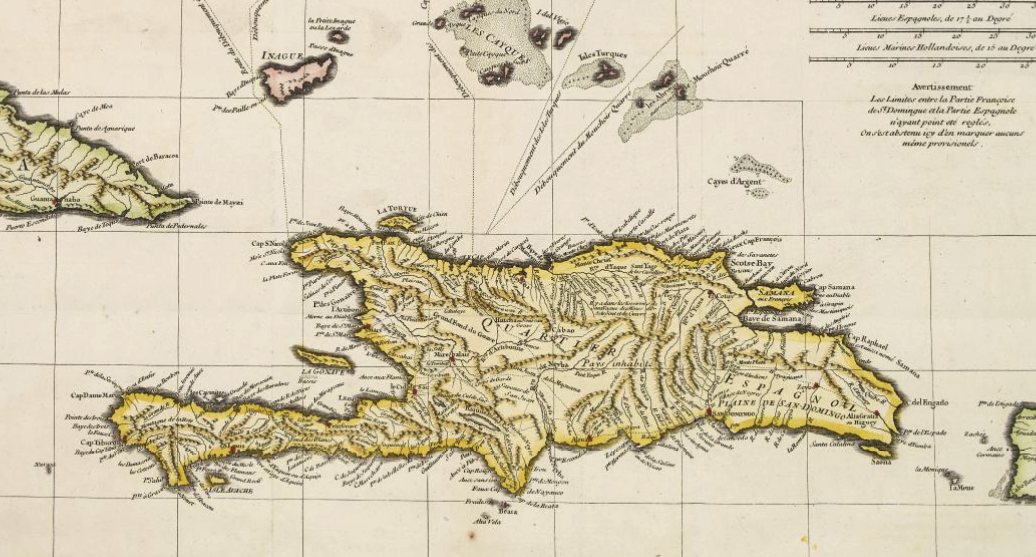 Antilles before the Revolution in which it became Haiti in 1804. During the 18th century, the population of Saint-Domingue increased quickly as the economy became centered upon agricultural plantations, which were slave-based. In addition to cattle, the agricultural exports included sugar and smaller amounts of coffee, cacao, indigo, and cotton. Called the "Pearl of the Antilles," Saint-Domingue became the richest and most prosperous French colony in the New World, and an important port in the Americas for goods and products flowing to and from France and Europe. By the 1780s nearly two-thirds of France's foreign investments were based on Saint-Domingue, and the number of stopovers by vessels traveling the ocean sometimes exceeded 700 per year.
Among that great number of those who stopped at Saint-Domingue were the ships traveling from France to Louisiana as they crossed the Atlantic. The Charente, carrying LA's new Governor Vaudreuil and Jean Baptiste Lapaise de Védrines in 1743, was no exception. Four months after departing Rochefort, France, it docked at Saint-Domingue for about ten days.
The Charente arrived at Cap‑Français, Saint-Domingue on the first or second of April,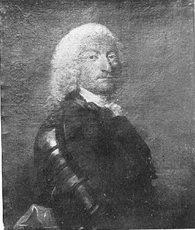 1743. While there, the ship's Captain, Charles-Alexandre Morell d'Aubigny (right), incurred great
expense in the lavish entertainment he provided for Governor Vaudreuil, and which he later sought compensation for (Vidrine and Vidrine, Governor Vaudreuil's Voyage to Louisiana, p. 3). One of the cadets de l'aiguillette who had received orders as an Officer of the French Marines on the same day as Jean Baptiste Lapaise de Védrines – Sieur M. Dastre – did not return to the Charente once it was time to depart. When he didn't report, a search was undertaken, but he was not found. (Vidrine and Vidrine, Governor Vaudreuil's Voyage to Louisiana, p. 13). On the morning of Thursday, April 11, the Charente departed Saint-Domingue to continue the voyage to New Orleans.
The Védrines family had other connections to Saint-Domingue and the nearby island of Martinique. On a document from Barsac, France during the French Revolution, in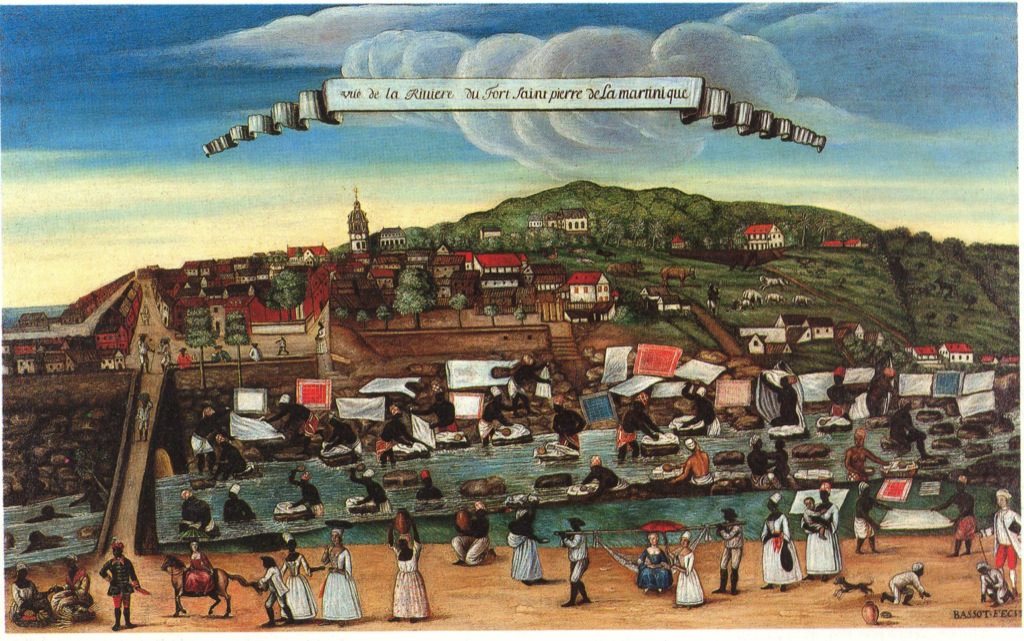 November 1790, it is stated that Jean Baptiste de Védrines (nephew of Jean Baptiste Lapaise de Védrines and son of his brother, Pierre Védrines) had three brothers who "have been gone from the Kingdom for more than 10 years", meaning that they had moved out of France, most probably to the New World. Perhaps they were inspired by their uncle, Jean Baptiste Lapaise de Védrines, who was the first member of the family to leave France for the colony of Louisiana in 1743. Pierre's sons were Jacques (born at Preignac on April 27 1743), Pierre (born at Preignac in March 1746), and Pierre Augustin (born at Preignac on July 27, 1757). According to Jackie Vidrine, Pierre Augustine left France for Saint-Domingue in 1774. There he married Francoise Celeste De Villeneuve. They had at least one son, Jean Charles Michel Védrines, who was born in December 1796 at Saint-Domingue. Francoise Celeste De Villeneuve died on September 27, 1798 on the Island of Martinique and was buried there. Pierre Augustine returned to France with a passport dated April 11, 1802 along with his son Jean Charles Michel, and they went back to the Chateau Doisy- Védrines near Barsac. It was there that Pierre Augustine died a few months later on June 29, 1802. (Védrines-Vidrine: Our Védrines in France, p. 138). Jean Charles Michel Védrines' son, Henri Védrines was born near Barsac in 1820. He was issued a passport on October 15, 1837 at Bordeaux, France for New Orleans, LA. He settled in the Attakapas district near St. Martinville.
Today in Haiti, there is a small community in the north west of the country named Vedrine, and there are some Haitian people who have the last name Védrine. It's unknown if there is any direct connection to our branch of the Védrines (Vidrine) Family. Perhaps there is some connection to Pierre Augustine de Védrines and/or Jean Charles Michel Védrines who lived there.