275th Anniversary: Etienne Vidrine dit Lapaise
The Vidrine Family in LA celebrates the 275th anniversary of Jean Baptiste Lapaise de Védrines' departure from France and arrival of LA in 2018. It's a great time to remember and reflect on the 275 years of history of his descendants and the life and family he established in LA.
Etienne Vidrine dit Lapaise (1770-1849) was born at the Pointe Coupée Post on June 15,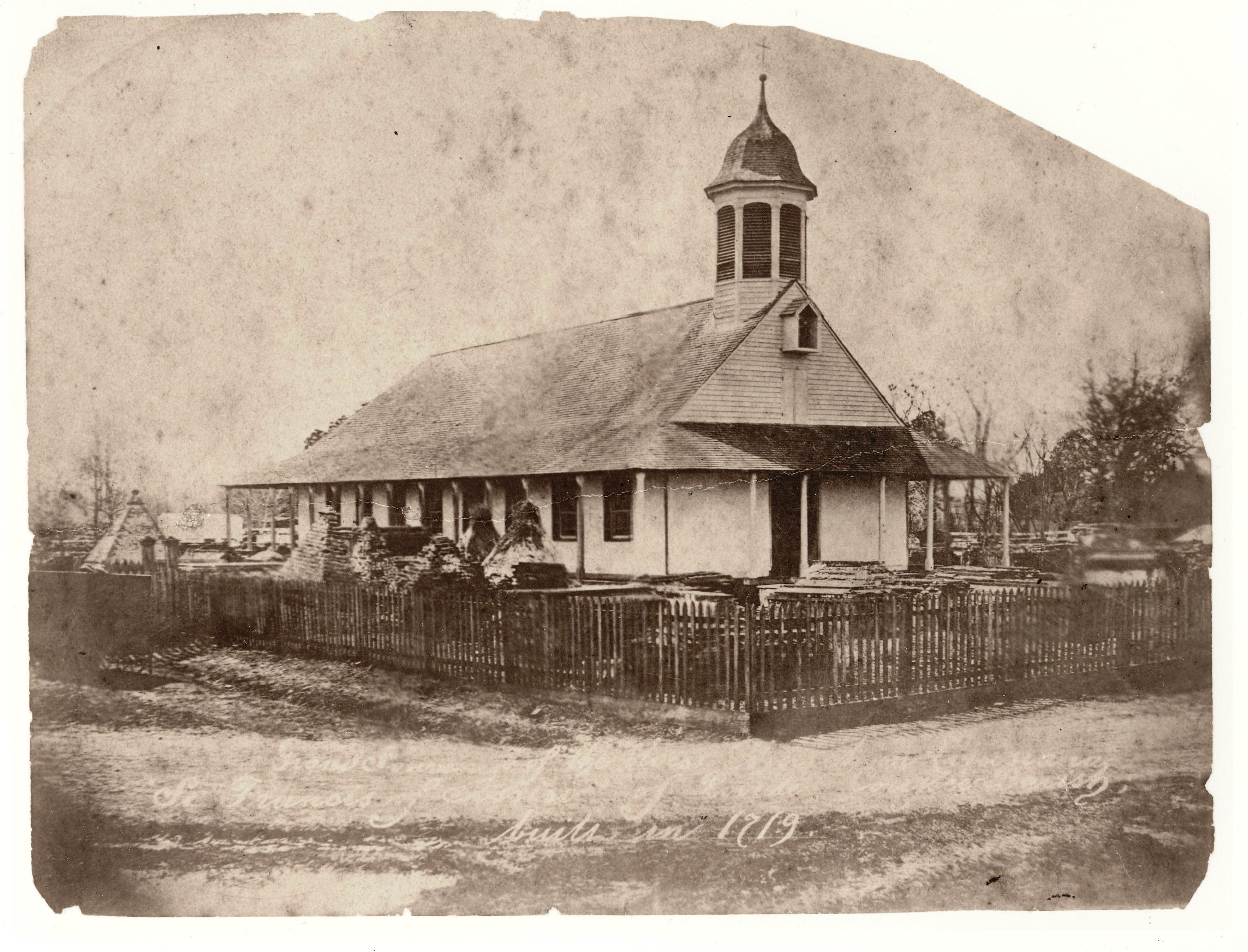 1770 as the second son of Jean Baptiste Lapaise de Védrines who was 58 and his mother, Elisabeth who was 26. He was the first true native son of South LA in the Vidrine family, as his older brother was born while Jean Baptiste Lapaise and Elisabeth de Védrines were still at the Fort de Chartres in IL. Two months after his birth, Etienne was baptized on August 5, 1770 at St. Francis Church by the French missionary Capuchin, Fr Irénée, O.F.M. Cap. (PCP 2, part 2, 97).
The first few years of Etienne's life were in Pointe Coupée. However, even while still living at Pointe Coupée (1765-1773), it appears that his father, Jean Baptiste Lapaise de Védrines homesteaded some property at the Opelousas Post (near Washington, LA). Some speculate that he did so as early as 1769. If so, it was most likely used as a vacherie or farm similar to what his family in France had at Lapeze, outside of Sainte-Livrade. We know that Jean Baptiste registered a cattle brand in the Opelousas District in 1770.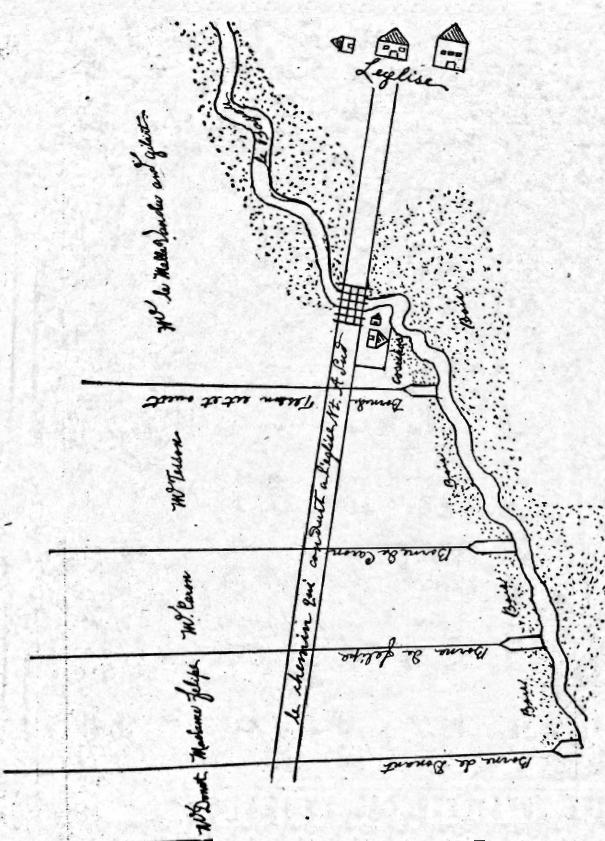 When Etienne was around the age of three, – in May 1773 – his father, Jean Baptiste received a grant of land at the Opelousas Post from the Spanish Government. (Pointe Coupee Documents, 1762-1803: A Calendar of Civil Records for the Province of Louisiana, Winston Deville, p. 100 (Apendix)). Settling at the Opelousas Post, Jean Baptiste engaged in farming, and especially cattle farming.
Etienne was seven years old in the Spanish Census of the Opelousas Post taken in May 1777, appearing as the youngest child of his father and mother, Jean Baptiste (65) and Elisabeth (33), along with his older brother, Pierre (age 15), and older sisters Agnes (age 14) and Perrine (age 12). Also listed are 7 cattle, 1 horse, and a negro slave named Cizar (age 32).
It appears that Etienne received some education as a young man. When he married later in life, he signed his name, while his wife Victoire Soileau, signed with an x, indicating that she was unable to read or write.
By the time the Spanish Census was taken in April 1785 by Commandant DeClouet, Etienne was fourteen years old living with this father and mother, Jean Baptiste (72) and Elisabeth (41) along with Pierre (23) and Perrine (19) – both still at home! 1 male slave and 1 female slave are also listed, both over 50. Etienne was most likely helping his father on the farm as a young teenager.
Ten years later, at the age of 25, Etienne Vidrine married Victoire Soileau on August 19,

1795 at the church at the Opelousas Post (V.1, p.57) with the Spanish missionary Capuchin, Fr. Pedro de Zamora, O.F.M.Cap, Pastor of the church, presiding.
One year later, the newly married couple decided to move west to the area known as the Quartier dit du Baton Rouge (which is today the area of Ville Platte). Etienne bought land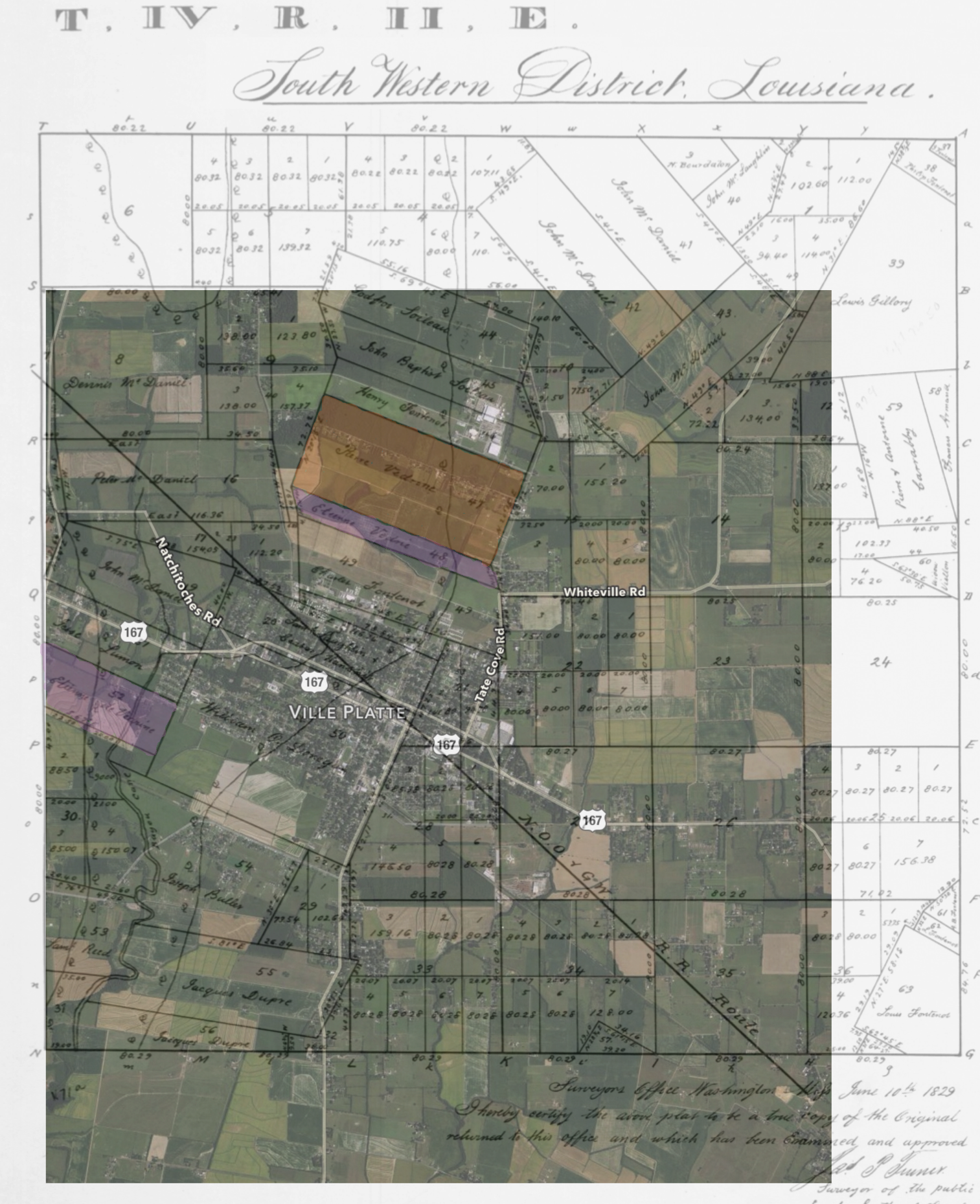 from his father-in-law, Noel Soileau, settling there in September of 1796. The land was next to his older brother, Jean Baptiste Pierre Vidrine, who had already settled there.
A few months after arriving at the Quartier dit du Baton Rouge, Etienne and Victoire's first born, Etienne Vidrine, Jr. was born on February 12, 1797. Their second son, Zenon Vidrine Sr. was born two years later, on February 26, 1799. By a year and a half later, on July 20, 1800, their first-born daughter, Eloise Vidrine was born and baptized the same day by the French Priest and family friend, Fr. Michel Barriere. In October of the next year – 1801 – their fourth child and third boy, Antoine Vidrine was born.
Tragically three years after her birth, Etienne and Victoire's daughter, Eloise Vidrine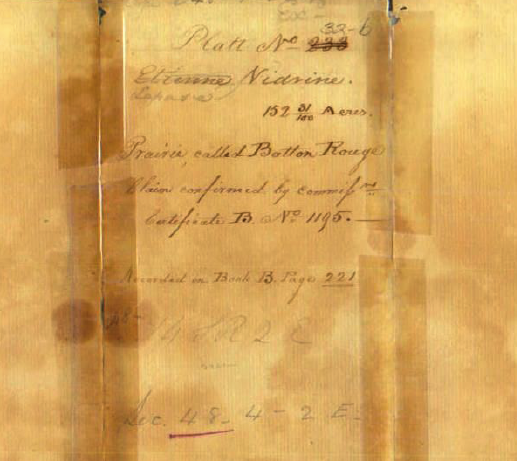 died on July 22, 1803. That same year, in 1803, Etienne sold the property he had purchased next to his brother, Jean Baptiste Pierre and bought land to the south west of his former property and moved there, filing a land claim for it in June of 1807.
The year 1803 was not only a year of difficulty and change for Etienne Vidrine dit Lapaise and his family. It would also see major change as the Louisiana Purchase Treaty was signed in Paris on April 30, 1803, in which Napoleon ceded the Louisiana Territory to the United States. At this time – during the transition of the LA territory from Spain to the United States – Etienne's uncle, Dr. Francois Robin observed:
"This country here, which a few years previously contained only savages, is inhabited with an infinite number of Frenchmen who are obliged to submit themselves to occupations of every kind in order to survive. This country is abounding in preceptors, teachers of dance, pack merchants, merchants of this and that. This country, which is rich due to its productivity, has just been ceded to the Americans. What will become of us in this new regime; these new morals and idioms, this religion, and all of the superiority that characterizes this Anglican nation? The only thing I can say is that Spain suffices for us" (David Lanclos, The letters of Dr. Franc̦ois Robin 1784-1826, 2009, p. 17).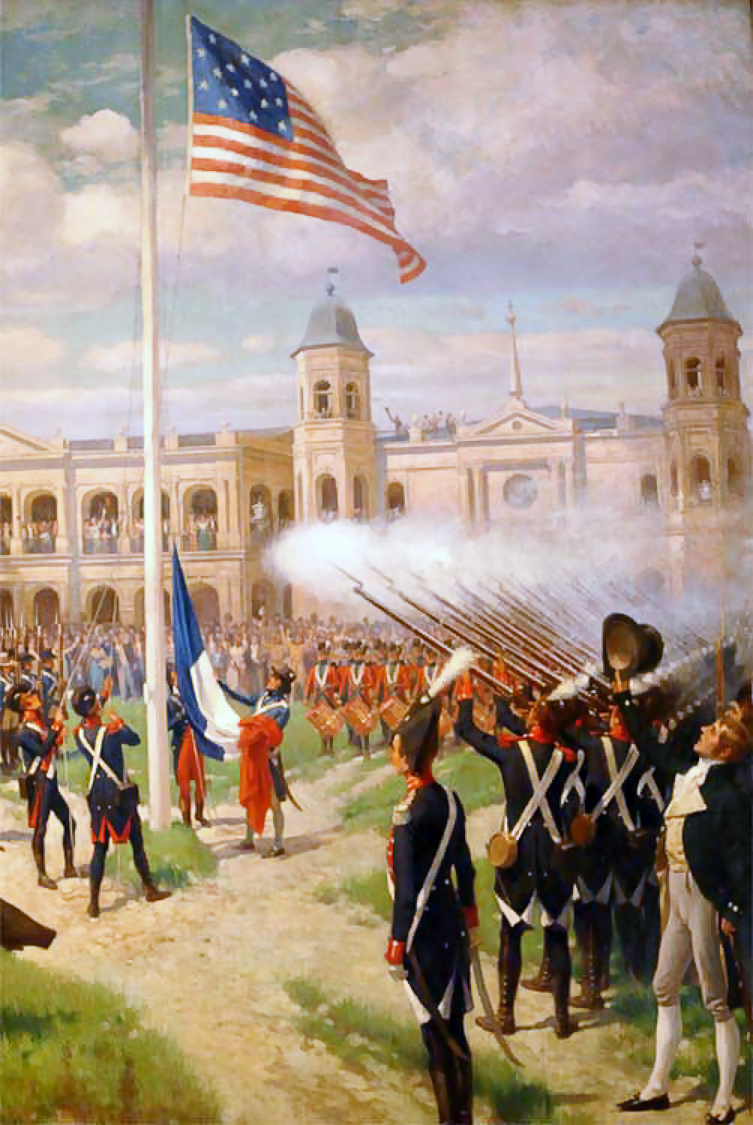 There's little doubt that Dr. Francois Robin's nephew, Etienne and his wife Victoire had similar thoughts of how the transition of the LA Government might change their lives.
During the succeeding years, Etienne Vidrine dit Lapaise was busy working his farm as Victoire gave birth to several boys: their fifth child, Louis Vidrine, Sr. was born in 1804. His brother – their sixth child – Joseph Vidrine was born the following year in 1805. Then came their seventh child, Jean Baptiste Vidrine born on March 7, 1806 and baptized the same day with Dr. Francois Robin and his grandmother, Elisabeth de Moncharveaux serving as godparents. After two years, their eighth child, Charles Vidrine was born in September 1808. And two years later, their ninth child, Edouard Vidrine, Sr. was born on July 3, 1810.
The US Census of 1810 lists Etienne Vidrine dit Lapaise (40) as the head of the household, Victoire (33), his wife, along with six children: Etienne, Jr. (13), Zenon (11), Antoine (8), Louis (6), Joseph (5), and Jean Baptiste (3).
On April 30, 1812, Louisiana finally entered the United States as the 18th state. Later that summer, Etienne and his brother, Jean Baptiste Pierre Vidrine both, like their father before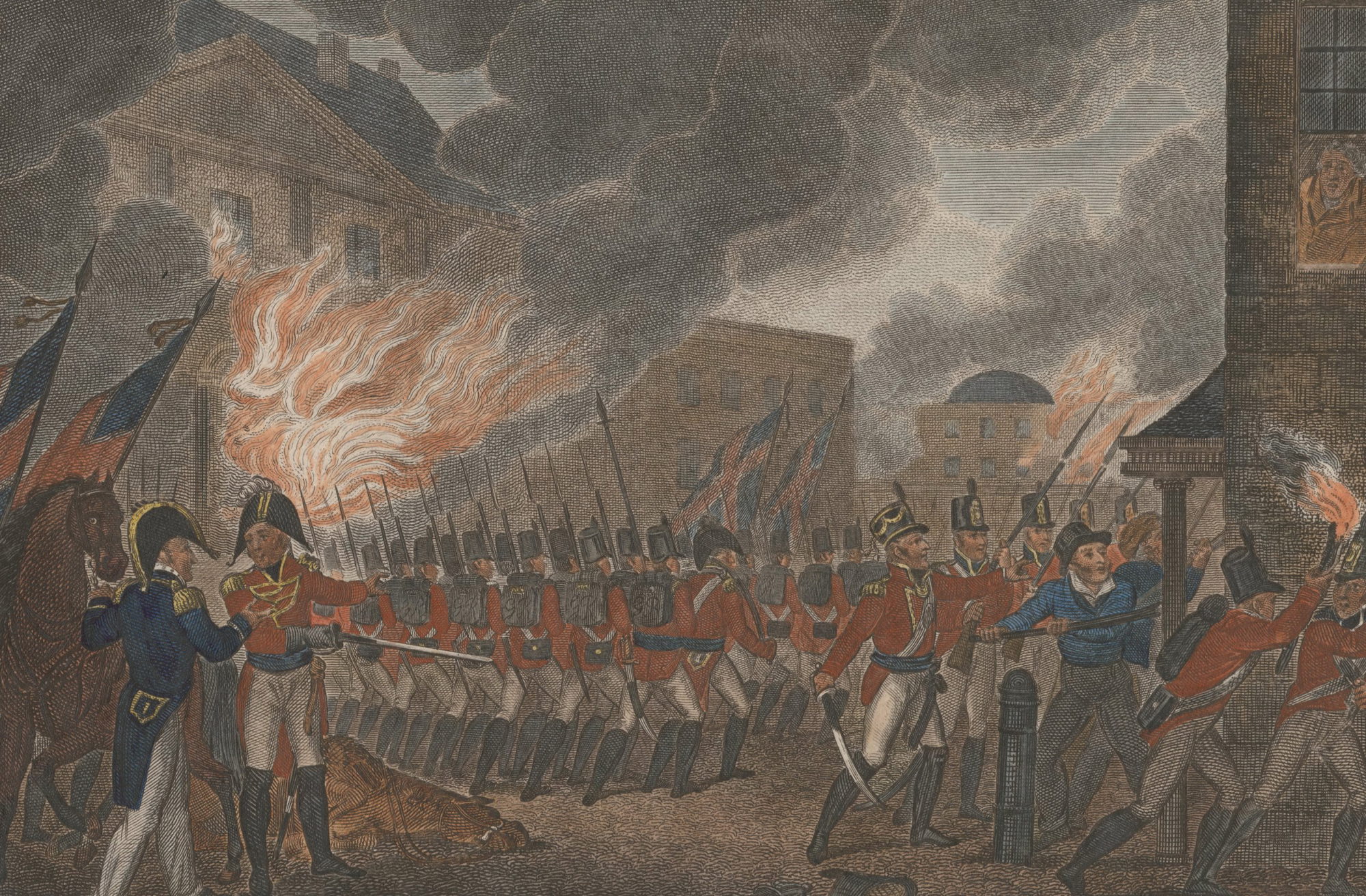 them, proudly stood up to battle France's ancient foe of England, but this time on behalf of the recently formed nation they were now citizens of. Etienne was 42 years old and served in the 16th Regiment (Thompson's) Louisiana Militia. The War of 1812 between the United States and Great Britain would have a tremendous impact on the young country's future. The United States suffered many difficult defeats at the hands of British, Canadian and Native American troops during the War of 1812, including the capture and burning of the nation's capital, Washington, D.C., in August 1814. However, American troops were able to overcome England's invasions in New York, Baltimore and New Orleans. The war finally ended with the signing of the Treaty of Ghent on February 17, 1815. Many in the United States celebrated the War of 1812 as a "second war of independence," which helped to increase national confidence and to foster a new spirit of patriotism.
While some of his older brother, Jean Baptiste Pierre's children were able to serve with him in the War of 1812, Etienne's children were too young. One interesting note is that we're able to see that their lives were, in a sense, put on hold as they took up the call of duty. Etienne's son, Augustine Edouard Vidrine, Sr, (the tenth child) was born just before Etienne left for the War in April 1812…and his eleventh child – finally a daughter – Victoire Irene Lapaise Vidrine wasn't born until just after the War finished in June 1815.
The twelfth child of Etienne and Victoire, Evariste Vidrine was born the next year, on October 3, 1816. And the thirteenth and final child, Leon Levi Vidrine, Sr. was born two years later on May 14, 1818.
In a letter to his cousin a few months afterward, in the fall of 1818, Dr. Francois Robin gives us a glimpse of life throughout the Opelousas territory in the aftermath of the War of 1812 and the reality of the State of Louisiana's acceptance into the Union:
"Land has increased a hundred fold in value during the last few years. This vast country, which had at the most 800 to 1000 inhabitants upon my arrival [in 1786], is now comprised of 12 to 15 thousand. Commerce is very brisk and everyone is involved in it. The Americans have thrust us out of our lethargy, and before our eyes were completely open, those that set an example for us (having only their skills) became rich before we did. One cannot explain the inclination of the Americans to educate themselves. The least of them go barefooted, know how to read, write and calculate, and are knowledgeable of the laws of the United States. They have land, have seen practically all there is to see, and have acquired several positions or professions" (David Lanclos, The letters of Dr. Franc̦ois Robin 1784-1826, 2009, p.54).
In the 1820 US Census taken on August 7, 1820, Etienne Vidrine dit Lapaise (50) appears along with Victoire (43), and ten of their children: Zenon, Sr. (21), Antoine (18), Louis (16), Joseph (15), Jean Baptiste (14), Charles (11), Edouard, Sr. (10), Augustin Edouard (8), Victoire Irene Lapaise (5), and Leon (2). By this time, Etienne, Jr. was married and out of the house. They also had one foreigner who was not naturalized living with them.
On November 10, 1822, Etienne dit Lapaise acquired a tract of land 5 arpents in front between Bayou Courtableau and Bayou Carron at the Opelousas Post from his nephew, Godefroy Soileau, which his mother (Marie Jeanne de Vedrines) had inherited from Elisabeth de Moncharvaux (Act 17, Book A, pg 9).
In the 1830 US Census was taken on June 1, 1830. Etienne Vidrine dit Lapaise (60) was still living at the Quartier dit du Baton Rouge (Ville Platte) with his wife, Victoire (53), and six children still at home: Joseph (25), Jean Baptiste (24), Charles (22), Augustine Edouard (18), Victoire Irene Lapaise (15) who married a few months after, and Leon Levi (12). He also had one slave.
Etienne Vidrine dit Lapaise died on February 20, 1849 at the age of 78 at the Quartier dit du Baton Rouge and was buried in cemetery of the church parish (St. Landry) in Opelousas as the church in Ville Platte (Sacred Heart) was not yet established.
In the 1850 US Census taken on June 1, 1850, Victoire (73) was living as a widow alone at the Etienne dit Lapaise home place.
Five years later, Victoire Soileau, Etienne's wife, died at the age of 78 on December 21,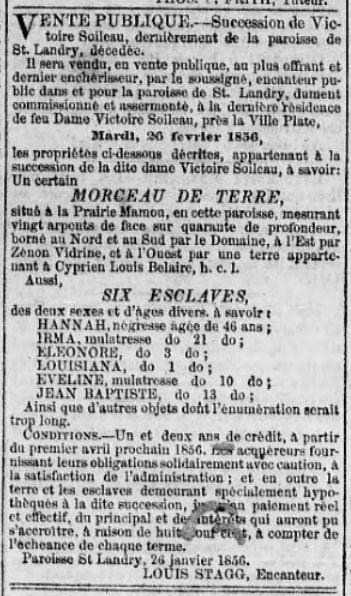 1855. The Succession or Estate Sale of Victoire took place at her home near Ville Platte on Tuesday, February 26, 1856. It included a piece of land in the Mamou Prairie [the land of Etienne Vidrine dit Lapaise at the Quartier dit du Baton Rouge] containing 800 superficial arpents measuring 20 arpents in the front by 40 arpents long boarded on the east by her son, Zenon Vidrine, Sr. and on the west by Cyprien Louis Belaire Fontenot. It also included 6 slaves of both sexes and of various ages: Hannah (black) 46 years old, Irma (mulatto) 21 years old, Eleonore 3 years old, Louisiana 1 year old, Eveline (mulatto) 10 years old, and Jean Baptiste (mulatto) 13 years old. Also included were other objects.
While Jean Baptiste Pierre and Etienne Vidrine dit Lapaise – the two sons of Jean Baptiste Lapaise de Védrines and Elisabeth de Mocharvaux – moved the base of the Vidrine Family from the Opelousas Post to the Ville Platte area, several of the sons of Etienne Vidrine, dit Lapaise and Victoire would move further west to what is today the Vidrine, Mamou, Duralde, and Basile communities as well as back east to Grand Prairie and Opelousas. A great many who make up the Vidrine Family today descend from Etienne and one of his many sons.